Discover the natural beauty and unique culture of native tribes at Inle Lake, one of Myanmar's untouched treasures. This vast picturesque lake, 900 meters above sea level, is 22 kilometers long and 10 kilometers in width and has a population of approximately 150,000, many of whom live on the floating islands. Nestled in the hills of Shan State, Inle is home to tiny stilt villages, lovely pagodas and exotic floating gardens and markets.
The calm waters are dotted with patches of floating vegetation, busy fishing canoes and the native lake dwellers – the Inthas who are renowned for their leg rowing.
Travel to Inle Lake by domestic flight is approximately one hour & 10 mins will take you to Heho, the gateway to the Inle Lake region. Upon arrival, you travel to Nyaung Shwe on the northern tip of Inle Lake En route the guests can visit Shwe Yan Pyay Pagoda and traditional Shan parasols.
Top Sights in Inle Lake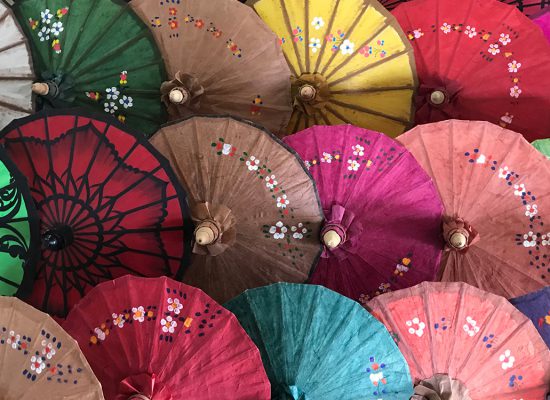 Traditional Shan Paper
The Shan region was historically close to the birthplace of traditional paper-making and produces famous, decorative hand-made paper. Stop at a local family-run workshop to observe paper making for the production of traditional Shan parasols.
Shwe Yan Pyay Pagoda
Unlike many other famous monasteries and pagodas in Myanmar, Shwe Yan Pyay Monastery does not bear the spirit of royal architecture. This monastery was built with the intention of giving shelter for poor boys in the region, who eventually become novice monks when they come to live here. Though it is built for an ordinary purpose, its architectural uniqueness of Shwe Yan Pyay Monastery can be comparable to any noble building.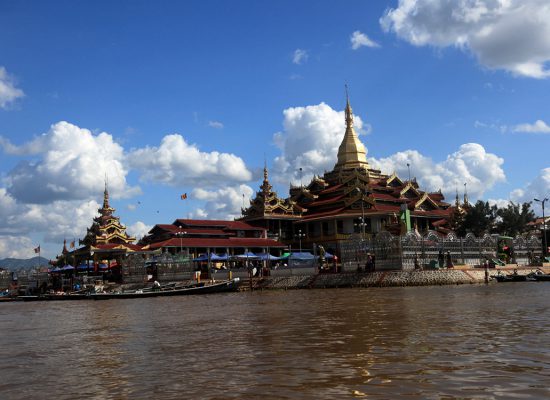 Phaung Daw Oo Pagoda
Visit the dazzling, 18th-century Phaung Daw Oo Pagoda, one of the first temples in Myanmar, one of the most dazzling and magical places in Asia, this pagoda houses five small buddha images which are much revered by the lake dwellers. Once a year, typically at the end of September, there is a Pagoda festival in which four of the buddha images are carried on a royal barge and conveyed to the 14 villages on the lake – it truly is a splendid sight to behold. A stop here for a closer visit to the holiest religious site in southern Shan State will be afforded.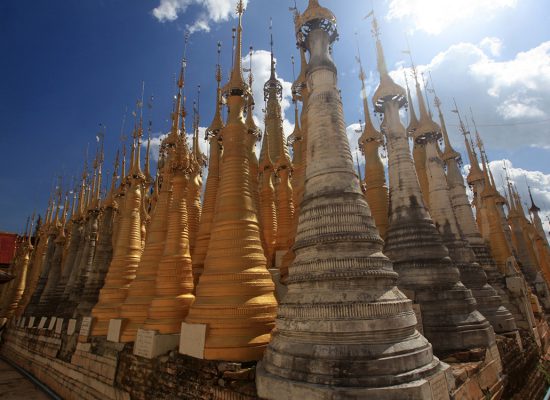 Shwe Inn Dein Pagoda Complex
Disembark at the jetty and take the approximately 15-minute walk through Indein Village to reach the 14th – 18th century pagoda ruins of Nyaung Ohak. A covered walkway popular with souvenir stall holders leads up to Shwe Inn Thein Paya, a complex of weather-beaten 17th – 18th century zedi; some newly reconstructed.
Five Day Market
One of Inle Lake's most popular and picturesque sights is its famous five-day market; it rotates its location around the lake villages in a 5 days rhythm. The typical market offers an insight into the life of the ethnic Pa-O, Danu, and Intha people who come to these markets to sell and buy goods.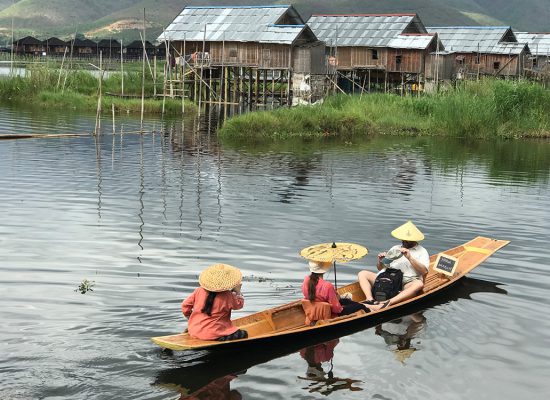 Local Canoe Boat Experience
There is a great opportunity to complete a canoe boat experience by Inle Canoe Lady. You will be taken on Inle Lake near Nam Pan Village and around Pauk Par Village. Your canoe will be rowed by local women who work at the cigar workshop, but are offering this short trip to provide their families with an extra income. They will be happy to show you around their village including schools, houses, markets and workshops. Inle Cooking Class at Heritage house
Connect and discover the tantalizing flavors and secrets of Inthar cuisine in Inle lake, Inle Heritage House is one the best outstanding as well as a sustainable vocational training project. Be involved in several activities aimed at preserving the culture of the local people in the lake. Once arrived there, welcomed by traditional Shan tea and a brief introduction to today's program. 
Follow the chef's introduction of traditional inthar food and explore the organic garden while listening to inspiring stories about how to use food and vegetables for healthy living. Pick up vegetables and herbs from the garden before heading to the kitchen. Under the guideline of the chief, prepare authentic Intha dishes using home cooking methods and following traditional recipes. Once ready, enjoy and feast on a delicious meal of authentic local cuisine. After filling up on these home-cooked delights, return to the hotel.
Balloons Flight Over Majestic Inle Lake
An extraordinary way to experience one of Myanmar's most scenic and cultural attractions. Local Inthar fishermen looking for the first catch of the day and boats laden full of produce on their way to the market through a maze of green floating canals.