Port Operations Support Services for Cruise Vessels
Myanmar Voyages is a leading ground operator for Passenger Cruises Ship Calling in Myanmar not only (Yangon inner port and outer ports) but docking at Mergui Archipelago as new port destinations for Mega Cruises.
World Leading Expedition Cruises and Semi Mega Ships to Kawthaung, Myeik, Dawei, Mawlamyine, Ngwe Saung Beach, Ngapali Beach, Sittwe and name in few as Port Coordination Service and Expedition Tours operated by Myanmar Voyages since 2005.
In fact, Myanmar Voyages is a pioneer cruise market introducer in Myanmar since 1996, served as the owner's Representative/ Protective Agent / Port Coordinator in cooperation with Government Shipping Agency Department (SAD) under Myanmar Port Authority (MPA), the sole State Agent in Myanmar. Our professional team coordinates port services and smooth payments process in all ports through close accountability with SAD and MPA.
As a leading pioneer cruise business entrepreneur, Myanmar Voyages successfully operated more than 120 calls to Myanmar since 1996 and is still planning to organize Mega Cruises to Mergui Area to be a hub port destination in near future.
Yangon Port
The Port of Yangon is situated at Lat. 16-degree 47 minutes north and Long. 96-degree 15 minutes east on the Yangon River and about 32 km inland from the Elephant point on the Gulf of Martaban. Yangon Port conveniently lies along the sea route of the Indian Ocean and compared to other neighboring countries.
Since the 15 century, Yangon port has been a gateway port of Myanmar but it is a riverine port. And therefore, all vessels incoming and outgoing must schedule to sail under Myanmar Port Authority approval due to tidal…
Read more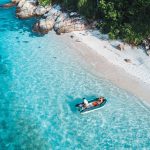 Other Ports
Nowadays, in the cruise industry, more and more mega-ships are operating worldwide and Myanmar is getting popular destinations in the World Cruise Map.
Since Yangon port is a riverine port, there are tide restrictions and restricted port limitations under Myanmar Port Authority (MPA). So, there is a two-port zone in Yangon as an Outer Port for Semi Mega Cruise under LOA 280 meters cruise and Inner Port (City Harbor) for a small cruise under 167 m LOA vessel as per existing rule.
Myanmar Voyages had successfully operated the largest cruise (MV Superstar Virgo) in 2003 after attempting …
Read more